How To Become A T-Shirt Designer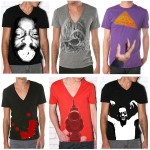 If you wonder how to become a t-shirt designer, you should start working right now to accomplish your goal.
Creating a successful t-shirt graphics business requires some effort, but mostly talent and dedication will help you start your own t-shirt brand sooner than you think.
First of all, you have to determine if you are ready to enter the business. You'll need some artistic talent and lots of intense practice. Also, you'll have to master Design programs like Adobe Photoshop and Illustrator.
It will take a while to learn but it will pay off later. You have to develop your skills in order to be a very good t-shirt designer and to stand out.
It's tough to do everything on our own. So it's a good idea to browse through specialised t-shirt forums. You can learn very much from the experience of other designers and you can interact with them to get valuable advice.
There are special environments for sharing or researching information and about the art of t-shirt design itself.
Then you'll have to decide what will get printed. Research the market and see what's selling at the moment. You can either go for something totally unique or for something popular such as funny ones.
After you decided, you have to get your t-shirts to the customers by getting them printed.
At the beginning, you can sell your t-shirts through one of the websites that upload your graphic, print it and ship it to the client. This is useful especially if you're on a tight budget and you can't afford to print them yourself.
You could also talk to representatives of local boutiques and see if they're interested in a t-shirt designer.
After the brand takes off a bit, you can establish it as a business with its own website, e-store and shipping services. You'll have to deal with everything, but the t-shirt brand will eventually start to generate passive income and you'll get a nice income out of it too.
You won't only be a t-shirt designer, but a manager for your business. This will bring lots of fulfilment.
Tips and suggestions along the way
Be patient. Your t-shirt brand won't become successful overnight. Continue to work and give it time.
Be creative and unique t-shirt designer. Don't imitate others. You'll only stand out if you bring something new in your own way. Copying other's work won't get you anywhere.
Promote your t-shirt brand. Don't miss any opportunity to share your new designs via social media or by word-of-mouth. This should be done on a constant basis, especially when you just started as a t-shirt designer.
Increase the inventory for designs that sell well and decrease it for the ones that barely sell at all. Even though you might have your own preferences, you'll have to be very attentive to the demand. Once you'll have your own t-shirt business, the popular ones can't ever run out of stock because this will make you lose money and customers.
Don't just wonder how to become a t-shirt designer. Start learning specialised software programs to improve your talent and practice to achieve your target of being a good t-shirt designer.
Break into t-shirt design by gaining more knowledge, using your abilities and developing your expertise in the field.