How To Become A T-Shirt Designer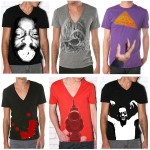 If you have ever wondered how to become a t-shirt designer, you're in the right place.
Creating a successful t-shirt graphics business requires effort, talent and dedication.
With a little research and dedication you will be well on your way to starting your very own t-shirt brand.
The first step is to determine if you're ready to enter the business. Commitment is the key. Nothing will happen on it's own. You have to do the work required.
Decide if you're just going to design t-shirts in your spare time or you want to make a business out of it.
What Do I Do?
The second step is to imagine what your t-shirt 'life' will look like when you're finished building it.
I wish I have a [speciality] t-shirt website that I enjoy running with 100s of designs making lots of sales.
Lets say this is what you dream about.
Work backwards from here and ask the 'how do I get' questions.
How do I get this to happen
How do I get a website?
How do I get hundreds of designs?
How do I put products online?
How do I get the products?
How do I get customer to see my products
Repeat this process all the way back to the beginning and you have all the steps laid out during this process.
The third step it to execute all the step as efficiently as possible so to get to your goal sooner.
Where Do I Start?
To be blunt, you're going to need some artistic talent. Whether you design it yourself or you hire a designer, you will still need to have an eye for fashion or design.
You'll also need to be familiar with design programs like Adobe Photoshop and Illustrator.
Free tools like Canva are OK to start, however as you grow you will out grow them quickly. They will take a while to learn but it will pay off later.
If you find you don't have an eye for design, but are still interested in the business. Find a partner who is a good graphic artist. And team up.
Related: How to design a t-shirt customers will want to buy?
Learn the Industry
It's tough to do everything on our own. So it's a good idea to browse through specialised t-shirt sites or design forums. You can learn a lot from the experience of other designers and entrepreneurs.
Find places where you can interact with them to get valuable advice.
Search online and find information about the art of t-shirt design itself.
Market Research
Next you'll have to decide what will get printed. Research the market and see what's selling at the moment.
You can either go for something unique or for something popular.
Find our who your customers will be. Give each customer one a name. Research each market. Describe the habits of this customer and note down everything about them.
After you decided, you have to get your t-shirts to the customers by getting them printed.
Distribution Channels
How are you going to sell them?
How are you going to get your design printed and to your customers?
If you are just starting out, you can sell your t-shirts through another website. Like ours. There are websites that allow you to upload your graphic. You can have them print it and ship it to the client.
This is useful especially if you're on a tight budget and you can't afford to print them yourself.
You can also talk to representatives of local stores. See if they're interested in a t-shirt designer. Or interested in stocking some of your designs.
As you get more sales, you can use the proceeds to establish your own website. Build in e-commerce and add drop shipping services.
It will be a lot of work and you'll have to deal with everything. But as the t-shirt brand grows it will in turn generate an income for you as the owner.
You won't only be a t-shirt designer, but a manager for your own business. This will bring lots of fulfilment.
Tips and Suggestions
Be patient. Your t-shirt brand won't become successful overnight. Continue to work and give it time.
Be creative and unique t-shirt designer. Don't imitate others. You'll only stand out if you bring something new in your own way. Copying other's work won't get you anywhere.
Promote your t-shirt brand. Don't miss any opportunity to share your new designs via social media or by word-of-mouth. Do this on a constant basis, especially when starting out.
Increase the inventory for designs that sell well and decrease it for the ones that sell at all. Even though you might have your own preferences, you'll have to be very attentive to the demand.
Don't wonder about being a t-shirt designer. Start becoming a t-shirt designer. Plan, research, study then do the work required.
Resources
Related Posts