T-Shirt Designer: How To Design A T-Shirt People Want To Wear?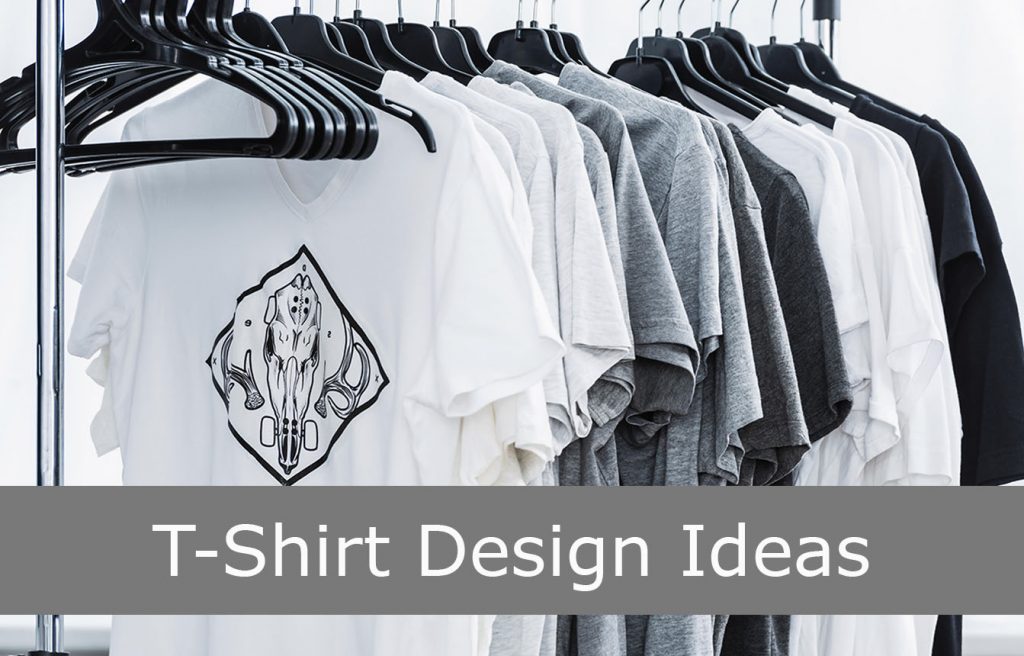 The fundamentals of t-shirt design remain the same, however what you decide to do can be the difference between a good t-shirt design idea or not.
Whether you've got a little or a lot of experience creating t-shirt designs, we'll show you how to come up with an awesome t-shirt design.
How To Design A Cool T-Shirt
Whatever your reason is for come up with a cool design, it will always involve a little bit of branding here and there.
The best way to start this process is by jotting down the key personality traits, styles, and themes you want your t-shirt to convey.
Do you want a serious or playful overall design?
Do you want a conservative or edgy one?
Or do you want an affordable or luxurious one?
Focused t-shirt design ideas will be able to answer these questions easily.
Know Your Printing Options
There are many things to consider when looking for the t-shirt printing technique that's best for your situation. Material, production time, appearance, and cost are all essential aspects.
Lets dig in to the various aspects.
– Screen printing: This is the original t-shirt printing method. This method uses screens to produce the t-shirt design output. It is affordable in bulk quantities and produces high-quality designs at a good price.
– Vinyl graphics: Vinyl transfer printing uses a heated transfer technique where instead of ink, a more durable vinyl is used. The design is CAD cut with a vinyl plotter cutter.
– Direct-to-garment: This is one of the newer printing methods. It involves the use of inkjet printing technology. This method allows you to use highly elaborate t-shirt designs with extensive colour choices and full colour details.
This is the print method we use to print all the different designs on this website.
Brainstorming Design Concepts
This is where all the fun stuff happens. This stage is when you get to figure out exactly what you want on the t-shirt.
The more effort and time you allocate to the preparation of your design ideas here, the better your overall design will turn out.
Here are a few tips to help you focus on your creativity.
Simplicity
The secret to a good t-shirt design is simplicity. You need to communicate your message with the smallest amount of components.
People loose interest easily and when you give them something 'simple'. It just clicks with them.
If the design is too complicated or busy, it may become hard to read or print. Sticking to a single message or image works well.
Nobody wants to wear something that is hard to read or difficult to be understood.
Niche Down
Your final design needs to be aimed at a certain type of person who belongs to a certain type of niche or demographic.
Take the time to research this niche and understand how this customer thinks. Then target your design to this type of person. Don't be to broad.
Remember this: People love people who are like them and if you try to become everything to everybody you become nothing to nobody.
People like to wear something that makes a statement about who they are.
Do Competitor Analysis
Doing competitor research is key. If you look at enough of what the competition is doing you will start to notice a pattern. Something you can bake into your design.
It gives you to the opportunity to discover gaps in the market. A way of doing things that set you apart.
This insight can help you better understand your target customers.
Explore Trends
Take the time to explore t-shirt trends and profitable designs in your niche. Or search into a broader related niche. Try to get a holistic view of the trends.
With enough searching you will start to notice a pattern. A preference for a certain topic or a repeated design element as a trend in the industry.
Topics that are pop culture related are always good. Working with something that is already popular will get people interested in your design.
100% uniqueness is not required. Add your own flavour to what is already popular.
Understand Design Principles
There are many design principles for every aspects of the design world. In this article we have condensed them down to the most basic of design principles.
We don't want to over think it. It's just t-shirt.
Proportion (Balance and Harmony)
Emphasis (Focus and Attention)
Additional Important Elements
Contrast (Complementary opposite)
Movement (Rhythm and Repetition)
T-shirt typography
The fonts you pick will say a whole lot about your design. Script fonts or serif fonts provide a more classic overall t-shirt design. For a modern look, go the sans-serif font route.
T-shirts allow you to play around with crazy and fun display fonts.
However, you need to ensure it's readable. If the words you're going to have on your t-shirt are vital in communicating the message you want your t-shirt to convey, make sure that you don't overshadow them with loopy, grungy, and swirly typography.
Imagery and style
At this stage, you'll have to lean on your artistic and creative instincts to communicate what you'll be trying to say with your t-shirt design.
Some of the questions you always need to keep in mind are;
what's your brand?
Who's your audience?
And why do you want a t-shirt design in the first place?
Put all of this together, and you can now start designing the t-shirt of your dreams. Also, remember that the t-shirt you come up with will be displayed on human bodies.
Some are lumpy, and some are bumpy. Consider using uncomplicated, flat t-shirt designs since you can't tell where the image's nooks and crannies will fall.
T-shirt types
There are many different kinds of t-shirts out there. It's easy to forget this when coming up with your t-shirt design idea.
You'll need to think about your intended audience before you decide on the kind of t-shirt you want to use. For instance, revealing crop tops may not be the best option for law firm t-shirts.
When sketching out your design ideas, ensure you're making a copy of the actual print size. Most printers use a 35cm×40cm canvases. So when designing it, physically place the designs you create on the t-shirt itself.
Although, that doesn't mean you have to fill up all the space on the t-shirt. It just lets you understand the physical boundary of the printable area of the shirt.
Evaluating The Design
As your t-shirt design ideas start rolling in, look through all your options and pick those you like the most.
Is your messaging, right? Will your design idea fit your t-shirt?
Give the feedback you get back to the designer and ensure the next set of ideas you come up with looks outstanding.
Afterward, make sure you show the ideas to people that don't have a connection to the t-shirt, even if it is a neighbour who lives across the street from you.
The idea is to test and measure customer feedback to improve your product line.
What If You're Not A Graphic Artist?
You don't need to be good at graphic art. A good concept will sell better than any grandiose design made by the best graphics artist.
The question we get asked a lot is; Should I: Buy designs, make my own designs, or hire a designer?
The short answer is, it depends on your situation.
Over the years we have done a little from each column. Here is what we learned condensed down to a few sentences.
Should I Buy Designs?
Buying design can be expensive if you are just starting out. If you have the money, and no niche experience this can be extra dicey.
You MUST learn your niche first, otherwise you won't know what designs to buy.
Should I Make My Own designs?
If you are just starting out, making your own designs might be your only option. In which case, you will have to learn a few design skills.
As previously mentioned, a novel concept can be just as popular as something from the best designer.
It's not hard to sketch out your concept on a piece of paper and send it to a professional graphic artist who can tidy it up and add a bit a extra flair to your concept.
Get your rough sketch re-drawn by a professional graphic artist
Should I Hire a Designer?
Like we alluded to in the previous paragraph, this is a great option if you are not such a good designer but understand your niche.
Use your niche knowledge to come up with concepts that a designer can work with.
Wrapping Up
T-shirt design and the t-shirt printing industry is growing and becoming more accessible every year.
The truth is, coming up with great design ideas isn't as hard as some people make it out to be. That said, it's not a walk in the park as well.
You'll need to put in a sufficient amount of effort to researching and creating, you will end up creating something special.
What to do Next?
The next thing you might want to think about is a website to sell your designs on. And a drop shipping service to help you fulfil the order when you get a sale.
Related Posts