Individuality with Personalised T-Shirts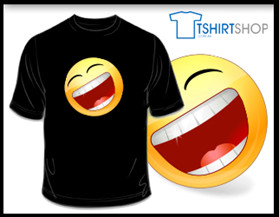 Modern technological advances have benefited the t-shirt industry, far beyond what we could have been imagined. In the past the only outlet for having a new t-shirt was to browse through the nearest clothing store. This limited individuality and prevented personal t-shirt styles as most t-shirts were duplicates of the others that were hanging on clothing racks across the nation.
Improving Your Personal Individuality with T-Shirts
People are able to get any personal t-shirt that they can imagine. If someone has a specific design in mind all they need to do is discuss it with our store and we can begin the printing process. This allows you to purchase individual t-shirts that'll get noticed by your friends, as well as strangers that you bump into on a daily basis. The feeling you get from being able to say "This is the only one and there isn't anywhere you can buy it." But its surprisingly simple, anyone can have their own personalised t-shirt design made.
How T-Shirts Can Improve Your Company Branding
In Today's world success is directly correlated to a company's ability to create a brand that has the potential to become a household name. A brand can be positively known or negatively known. Having the ability to custom design personalised t-shirts for all company apparel, that becomes the forefront of your company brand, will prevent your company from appearing as run of the mill; another mindless design built for franchises.
This isn't the image that draws in new clients. Potential clients want to see that you have a company that is up to date on consumer trends and is innovative. Designing personalised t-shirts that convey a productive message will show future clients that you have the ability to think outside the box and get things done.
Show your personality with a t-shirt
Individuality on the personal and business front is the latest in t-shirt trends. It allows people and companies to stand out; it proves a boldness that many lack. This is what our company can do for you; you can create your own individual t-shirt design online or discuss it with us and have us create a personal t-shirt design that you could be proud of wearing in any situation.
Why Personalised T-Shirts have been so popular lately?
Improves your Personal Individuality with T-Shirts
T-Shirts can improve your Company Branding
It

 

will show your personality with a T-shirt
Individual t-shirt designs can give you a look that fits into everyday life, lazy weekends, corporate events, company gatherings and even holiday getaways. No matter what you have on the calendar, make sure you bring out your complete individuality with a personalised t-shirt.