Mens Statue Sticker T-Shirt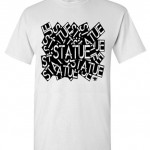 'The birds of the same feather flock together'.
If you have a cool personality ~
You'll likely attract the coolest pals in town.
Why not show your coolness with a shirt?
The statue sticker t-shirt is made of 180 GSM 100% Combed Cotton and shoulder to shoulder tape; along with features of pre-shrunk fabric to minimise shrinkage.
It also has double needle bottom hem and sleeves.